---
---
MAXIMUM VELOCITY! ®
Pinewood Derby Car
Inspection Gauge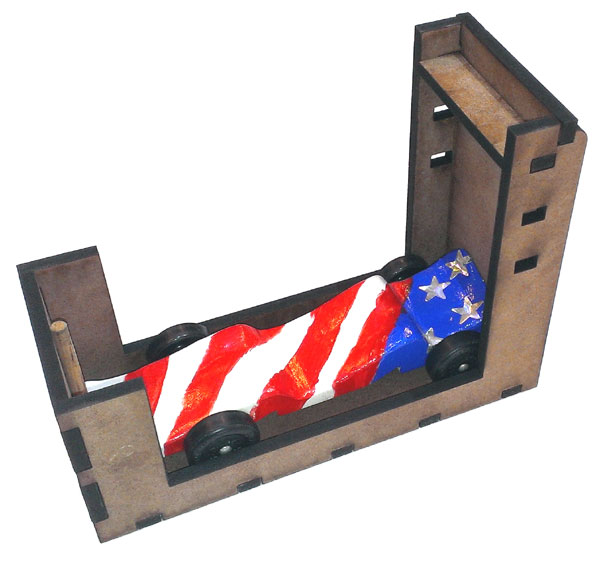 Speed up your race inspection and make it consistent!
Our Car Inspection gauge will help you improve your race by providing a consistent and quick way to inspect each pinewood derby car. The heavy-duty construction (cabinet grade plywood) means that your organization can use this gauge for years to come.
Features
The Car Inspection gauge allows you to easily measure the following criteria:
Car Dimensions - If the car fits fully inside the gauge (with the door closed), then the car meets the standard dimension limits of:
- 2-3/4 inches maximum width,
- 7 inches maximum length,
- 1-3/4 inches minimum wheel spacing, and
- 3, 4, or inches maximum height (adjustable). The height checker in the photos is set at 5 inches.

Underbody Clearance - If the bottom of the car clears the guide rail then the car meets the 3/8 inch minimum underbody clearance.

Wheelbase Length - If your organization has restrictions on wheelbase length, you can mark those limits on the base of the gauge.

Start Pin - Verifies that no part of the car extends past the starting pin.

Storage - The gauge folds up for easy storage.

Gauge Ready to Accept Car

Car Entering Gauge
Verifies Height, Width and Underbody Clearance

Door Closed
Verifies Length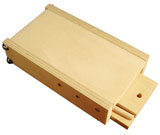 Closed for Easy Storage
Assembly
The Inspection gauge is shipped unassembled with easy to follow instructions. You will need a Phillips screwdriver to assemble the gauge.
---
Copyright © 2017 by Maximum Velocity, Inc.
®
Maximum Velocity!
is a registered trademark of Maximum Velocity, Inc.
Pinewood Derby
is a registered trademark of Boy Scouts of America.
Awana
is a registered trademark of Awana Clubs International.
PineCar
is a registered trademark of PineCar.