---
---
MAXIMUM VELOCITY! ®
9/32" Tungsten Rod - 3.5 ounces
Pinewood Derby Weight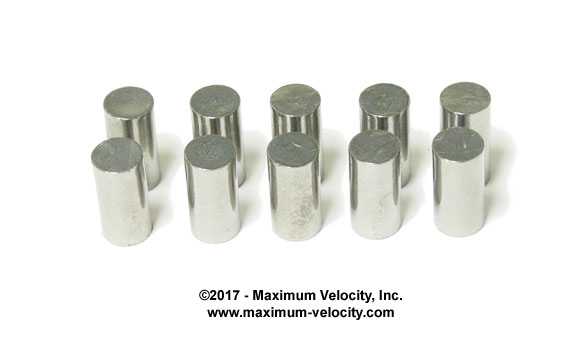 Make Your COG More Aggressive
Three Tungsten Rods: 1.05 Ounces - Six 1/4 Cubes: 1.03 Ounces
Product Content
Ten, 9/32" Tungsten Rods weighing approximately 0.35 ounces each, for a total weight of approximately 3.5 ounces.
Product Specifications
Diameter
- 9/32 inch
Length
- 0.56 inch
What is Tungsten?
Tungsten is a metal with one of the highest densities. Tungsten is 1.7 times more dense than lead, 2.4 times denser than steel, and 2.7 times denser than zinc.

Sample Car With 3 Rods in the Back Three Holes, and 1 Rod in the Front Hole
Balance Point: 9/16 inch
Car Thickness: 3/8 inch at back
How to Use this Product
Tungsten Rods can be easily used for pinewood derby car weighting, and can result in a more aggressive COG than can be acheived with 1/4 inch tungsten cubes.
Drill 19/64 inch diameter holes into the side of the block (a drill press is recommended). Then cut out the car. Glue rods in place, fill the holes, then sand and paint. A small hole in the bottom of the car is recommended for final weight adjustment iwth Tungsten Putty.
---
Copyright © 2017 by Maximum Velocity, Inc.
®
Maximum Velocity!
is a registered trademark of Maximum Velocity, Inc.
Pinewood Derby
is a registered trademark of Boy Scouts of America.
Awana
is a registered trademark of Awana Clubs International.
PineCar
is a registered trademark of PineCar.